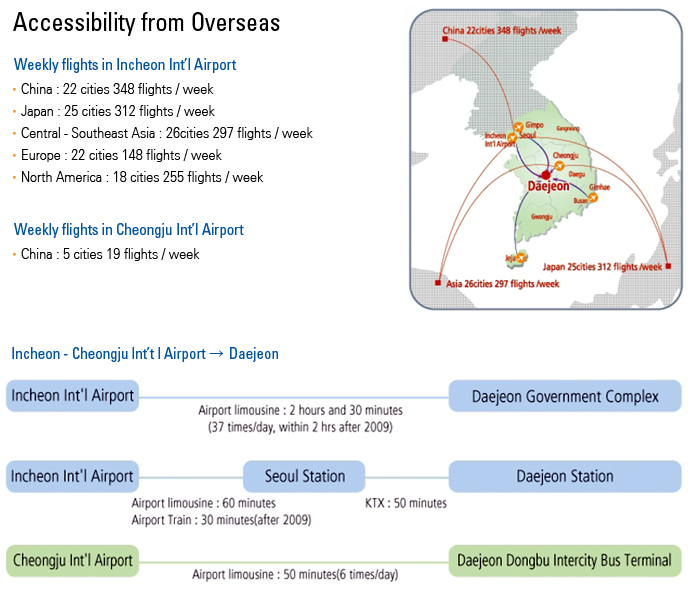 Public Transportation System in Korea
- Getting Around Within Korea
Domestic flights:
Korean Air and Asiana Airlines provide domestic air transport service, connecting Seoul with other major cities, involving one-hour flights at most. They also connect Jejudo Island with major cities in Korea.
Gimpo Airport is mainly used for domestic flights, while Incheon International Airport had replaced it as the gateway for international flights.
Railway services:
The Korean National Railroad operates the Korea Express Train or KTX, Saemaeul, and Mugunghwa trains, covering almost every corner of the country. KTX is a high-speed train which began its service in April 2004. It connnects Seoul with the southeastern port city of Busan and the southwestern city of Mokpo. It shortened travel time from Seoul to Busan to 2 hours and 40 minutes from the 4 hours and 30 minutes; and from Seoul to Mokpo to 3 hours from 4 hours and 40 minutes. Most popular destinations can be reached with single-change connections.
Bus services
: Intercity bus networks connect virtually all cities and towns in the country and are an economical way to travel. Exclusive bus lanes are enforced in the daytime, which makes it less time-consuming to travel by bus. Local, city and express buses with fares between 500 to 1,400 won service all cities small or large. City buses are numbered according to their routes, but since signs are usually in Korean and no English timetables are available, it is advisable to know the bus numbers in advance.
Long distance express buses:
Two services, regular express buses and deluxe express buses, provide efficient access to all major towns in Korea. Deluxe buses offer spacious seats and amenities such as mobile phones and VCRs. Late-night deluxe express buses run on some lines. The Seoul Express Bus Terminal and the East Seoul Express Bus Terminal are the two busiest terminals in Seoul. Busan's Express Bus Terminal is located in the eastern part of downtown.
Subway services:
The subway is the most efficient and convenient way to get around Seoul, Busan, Daegu, Incheon and Gwangju. The subway system has developed into these cities' main transport system and continues to provide a fast, safe, and comfortable means of transportation. In Seoul, it links all neighborhoods with the outlying areas and satellite cities. On the intercity network, trains operate at intervals of 2.5 to 3 minutes during the morning and evening rush hours, and intervals of 4 to 6 minutes during non-peak times. Fares vary according to destinations, with a basic fare of 900 won in cash and 800 won by transportation card respectively.
Taxi services:
There are two kinds of taxis - regular and deluxe. Fares are based on distance and time. The fare for deluxe taxis is somewhat higher than that of regular taxi, but nearly all taxis are equipped with a third-party interpretation system that can be accessed by cellular phone.
Car rental:
Driving in Korea can be an exciting and effective way of getting around. An extensive road and expressway network is available, which means you can visit every corner of the country. Road numbers and destinations are clearly indicated on road signs. Drivers must meet the following requirements: one year of driving experience, an international driver's license valid for a year from the date of entry, at least 21 years of age, and valid passport.
Rental fees vary from 68,000 to 265,000 won for a day, depending upon the type of car. The speed limit is 60km/hr for most roads in the city and 80-100km/hr for city expressways including Olympic Expressway. Driving while intoxicated involves a very heavy penalty.
Ferry Services:
This offers one of the most pleasant ways to see Korea. Routes are available between Busan and Jejudo Island, Mokpo and Hongdo Island, and Pohang and Ulleungdo Island. A hydrofoil runs between Busan and Yeosu on the south coast, calling at several small ports along the way.
- Public Transportation System in Daejeon
Bus
Bus is the most inexpensive means of public transportation in Korea, costing 1,000W for regular bus. The bus numbers by way of the university are #918 (regular). Bus runs from 05:00 to 23:00 (every 10 to 15 minutes for regular bus).
Taxi
The basic fare of taxi is 2,300W for the first 2 km and 100W is added every 41 seconds or 168 m. Taxi fares increase by 20% from midnight to 4 AM. There are few taxis in front of the university; thus, many use call taxi (with 1000W of extra charge) and walk to Jeonmin-dong.
Express Bus & Train
You can use express bus or train to travel to other regions. Yuseong Bus Terminal connects to major cities including Seoul, Busan, Incheon and Daegu. Bus to Seoul, the capital city, runs every 30 minutes. The fare is 8,700W for regular bus and 12,700W for deluxe bus (as of summer 2009). To go to Yuseong Bus Terminal, take village bus #1 and get off at the Yuseong intersection in front of the terminal. Daejeon Bus Terminal can be reached by Bus #802 from Jeonmin-dong bus stop or Daejeon Cheongsa Bus Terminal, the closest bus terminal, by #918 in front of the school.
There are two train stations in Daejeon, Daejeon Station and Seo(West)Daejeon. SeoDaejeon is for those heading southwest (such as to Jeolla province), and Daejeon Station is for all other regions. There are different classes of train: KTX (bullet train), Saemaul, and Mugunghwa. The running hours/fare between Seoul and Daejeon are 50 minutes/22,900W for KTX, 1 hour 30 minutes/15,500W for Saemaul, and 2 hours/10,500W for Mugunhwa. On-line reservation of train tickets is possible at http://www.korail.go.kr/. To go to Daejeon Station, take the bus #513 and get off at the station. Also #705 and #802 from Jeonmin-dong bus stop provides quick access to Daejeon Station. Get off at Daehantongun in front of the orange building (selling Korean traditional outfits, hanbok) before the station.